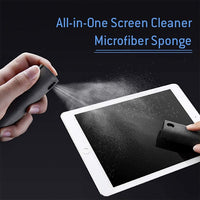 Shop ALL-IN-ONE Screen Cleaner Microfiber Sponge for your Phone, Tablet, Laptop etc..
This cleaning spray and microfiber cloth spray bottle containing an effective cleaning fluid will make dust and fingerprints disappear instantly. Just spray and wipe. The screen wiper is shaped like a block with a soft microfiber cloth wrapped around it. After applying some spray, you can use the flat sides of the cleaning block to polish the screen of your phone, tablet, TV, notebook or desktop computer. The compact size screen wiper fits into your pocket or bag so you can take it with you anywhere. The transparent cover will protect the durable microfiber cleaning cloth and the integrated spray bottle.
Shop Now
Testimonials
I'm very happy with my purchase also the price.Its very well made and as described.Shipping was very fast and Fommy sent out a email about shipping and expecting it soon.I love this case.Thank you Fommy I'm one happy lady!!

Cassandra Westfall
Bought an Amzer shatterproof Screen Protector for my iPhone and product quality is very impressive...first I thought its a bit expensive but after receiving it I would say its worth of cost...nice store...nice products...would love to shop again

Kevin Bush
Well its a nice store having genuine products... I am pretty much impressed by their shipping services and product quality. Very co operative customer services... nice people..

Zenelia C.